If you're looking for an area of the The Netherlands away from the big three (Amsterdam, The Hague and Rotterdam) then a trip to Leiden "City of Discoveries" may be the perfect solution.
Leiden is beautiful – located between Den Haag and Amsterdam it shares many of their best attributes but without the crowds and as well as being a student town housing the country's oldest and most renowned university (twinned with Oxford and with 13 Nobel prize winners to its name); it's also one of the best-preserved historic centres in The Netherlands.
Looking for traditional Dutch scenes? Here, in the city of Rembrandt's birthplace you'll find windmills and canals so picturesque they were used as a location for the filming of 'The Miniaturist which made the most of the fact that little has changed here since the 17th century. So whether you explore via a walking tour or boat tour or simply grab a drink on one of the boat terraces along the city's main canal, Leiden is a fabulous place to base yourself for a long weekend.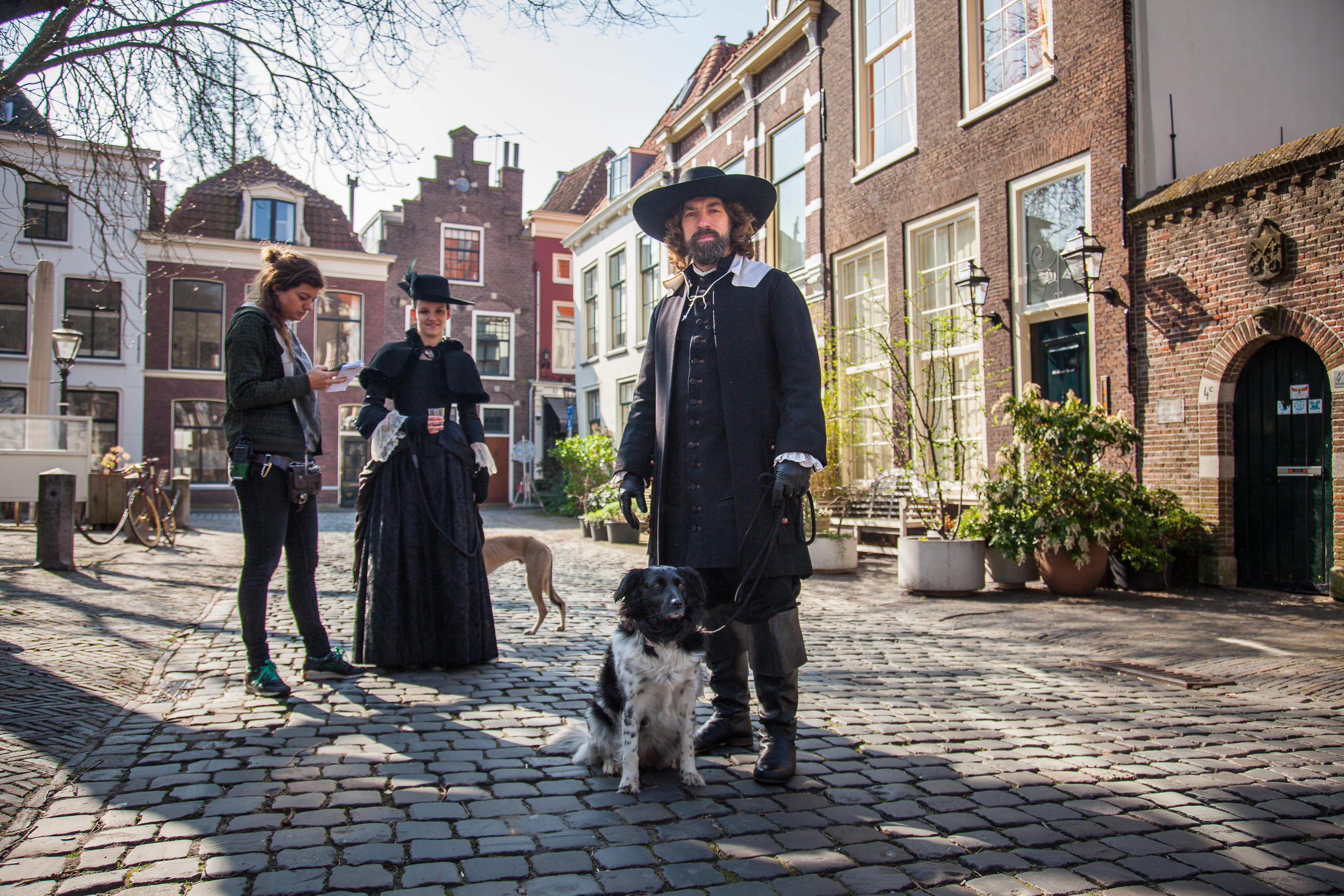 But there is more to it, either for the day visitor or those who want to linger a little longer. As well as being close to a range of our other favourite Dutch locations (more about that later) it has also been one of Europe's most significant science centres for centuries. On the outskirts of the city you'll find science parks and research centres housing all the big names and best of all museums and attractions that play to its strengths.
Naturalis
Naturalis or 'Naturalis Biodiversity Centre' to give it its full name is The Netherlands (indeed one of Europe's) foremost museums of natural history and a research centre for biodiversity. Only reopened in the last couple of years after extensive renovations (followed rapidly by Covid closures) its history can be traced back to the early 1800's.
The collection includes approximately 42 million specimens making it one of the largest natural history collections in the world.
The museum has several permanent exhibitions which kept our two enthralled (its incredibly hard to do it justice in photographs but due to the renovations everything is new and stunningly well presented). The showcase centrepiece is a winding path that rises through a range of landscapes starting in the deep ocean and ending on a mountaintop. Here specimens and replicas of life on earth are presented in all their magnificent glory.
Elsewhere in the museum 'Earth' shows the powers of creation and destruction from volcanoes on Hawaii to earthquakes in Japan as well as a chance to explore minerals 'underground' and Early Humans – the highlight of which is the reconstruction of a prehistoric female based on Dutch physician and researcher Eugene Dubois' discoveries about the link between primates and mankind.
The Ice Age gallery (possibly my favourite) features a vast model – the images below definitely don't do it justice – showcasing the Dutch landscape millions of years ago surrounded by hundreds of fossils and skeletons as well as a woolly mammoth. Visitors use binoculars to 'see' prehistoric animals stalking across the landscape.
This being The Netherlands there are galleries for 'Seduction' and 'Death' too and the must-see Dinosaur gallery which not only includes fossils and specimens but also one of the most complete and best preserved Tyrannosaurus skeletons ever found and one of only two kept permanently in Europe.
Naturalis is a truly brilliant outing for any age and is open from 10am-5pm every day of the week (except for King's Day, September 6th and Christmas Day)
Corpus
Another sensational attraction is Corpus which, as the name suggests gives visitors a chance to journey through the human body.
Located inside a brown 'giant' which can be seen from far and wide, this body is attached to a building, inside of which you can travel into the body – from the knee up to the brain.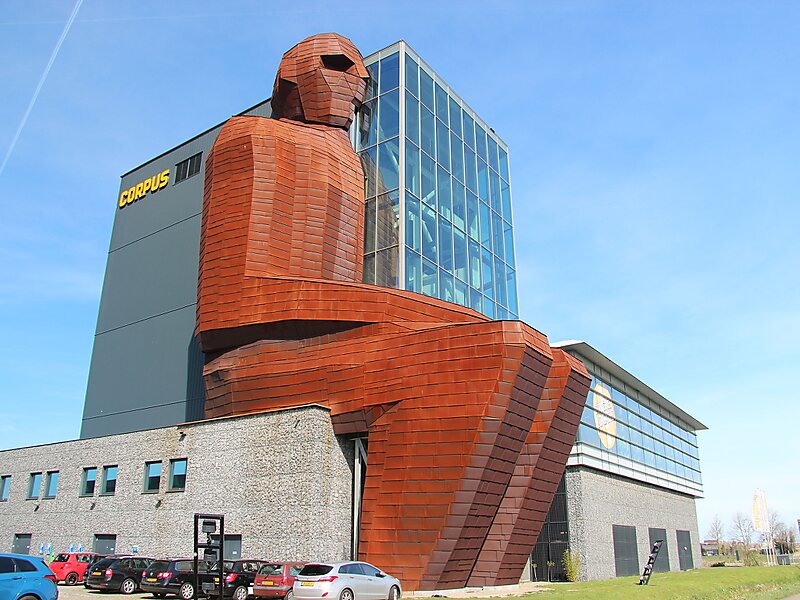 The exhibit is only available for those 6 years and older and booking is essential as groups travel through the body together, accompanied by an audio guide available in eight languages. Secure a time slot for your tour or you are likely to end up disappointed, this is a popular attraction (closed on Mondays).
The experience last just under an hour and brings to life what happens when a splinter enters the body, how we listen to music, how we breathe and the journey of a red blood cell. You move through the body itself, sometimes aided by the use of 3D glasses and moving lifts.
Afterwards there are interactive exhibits and games with further information to explore on your journey back down. These were slightly less interesting for our children although the optical illusions shown on each floor still managed to capture their imagination.
Oscar was delighted to see the 'journey of a cheese sandwich through the body' brought to life having just studied it in Science at school. This is a great experience for tweens and teens, helping to make life-science accessible and memorable.
Other attractions and places of interest within half an hour of Leiden
Museums/attractions North of Den Haag, reachable with 30 minutes from Leiden (click the links for further info)
Museum Voorlinden
A little further from Leiden towards Den Haag, and for those of a right-brain rather than left-brain bent, is the magnificent Voorlinden Museum. Packed with an extraordinary collection of contemporary art, displayed in a stunning building set in beautiful grounds, its definitely worth a visit.
Louwman Museum
Housing the world's oldest private collection of historic cars, the Louwman is worth a visit for those even vaguely interested in the history of the automobile. With over 275 vehicles including James Bond's Aston Martin DB5 from Goldfinger its worth adding to your visit-list.
Madorodam
Despite stiff competition there is nowhere in The Netherlands our kids would rather be than the ever-popular Madorodam. The huge park showcases the Netherlands at a scale of 1:25 and with moving trains, planes and cars you can loose hours in this extraordinary miniature wonderland.
Outdoor options easily reachable from Leiden
Noordwijk
The beach at Noordwijk is one of the best in The Netherlands. Sprinkled with some of the loveliest pavilions along the coast its a perfect place to spend some time on a bright or even a cloudy day. Katwijk aan Zee is even closer and although it also has perfectly nice pavilions (I honestly don't think I've been to one in The Netherlands that isn't) its a little less 'hip' then its neighbour up the coast.
Scheveningen
If the beach is your thing, don't rule out heading down the coast to Scheveningen which is the closest beach to Den Haag. The North end of the beach (the Zwarte Pad) is home to some our fave hangouts and its less than half an hour from Leiden.
Lisse and the Keukenhof
If you're in the area in Spring head to the nearby 'Bollenstreek' or bulb fields. The area is home to the infamous Keukenhof Gardens as well as other places from which you can explore the floral wonders of the area. Stop in at a Flower Farm or cycle around. For visits between late March and early May its a must.
Delft
A little further but certainly worth a mention is the classically beautiful town of Delft. Yes, its touristy but its popular for a reason and not just as its home to the infamous Delft Blauw pottery. The city is ringed by canals with the medieval Oude Kerk at the centre – burial place of its most famous resident Johannes Vermeer. Thursdays is market day and the place to find flowers, cheese and bric a brac whilst Saturdays also hosts a market on the Brabantse Turfmarkt – a good opportunity to get a fresh stroopwafel.
Leiden is the perfect base to explore 'South Holland' – spend a week in the area and we guarantee you still won't have time to do everything on your list.