**Breaking news – Oeuf have recently opened a new branch in Centrum in the perfect spot – just a hop and skip from the 9 Little Streets in one direction, and the Jordaan in the other***
Wandering through The Pijp recently on a rainy July morning we stumbled across the gorgeous Oeuf Amsterdam.
On Daniël Stalpertstraat, one of the loveliest streets in the area (and suddenly becoming a bit of a foodie hotspot) it looked like the perfect place to settle down for brunch.
Whilst nearby tourists queue (inexplicably) down the street for The Avocado Show and Bakers and Roasters, this authentic, cool and gezellig spot offered us everything we were after.
You won't be surprised to hear that Oeuf specialises in eggs.  Naturally there are Benedicts and Florentines, Omelettes and Soldiers and of course the breakfast du jour "Shakshuka".  But to my delight there was also steak tartare, an oeuf truffle special and some pretty impressive sounding salads, burgers and sandwiches though the menu feels perfectly concise and not overloaded.
We sat on the terrace under the awning despite the rain, helping ourselves to orange, rosemary and ginger flavoured water from their dispenser and enjoying the local chatter.
The interior looked ridiculously cosy, with its tiled floor, mismatched chairs, marble tables, wooden cabinets and dripping candles.  Someone has definitely put a good deal of thought into the styling of this delightful cafe.
They even do a pretty awesome line in t-shirts and had I seen one in kids' sizes, I almost certainly would have left with more than just brunch.
But its definitely not all about the look – the food was great.  My tartare (and chips) were the best I've had recently and given how tough it was to choose between that and the truffle special, I'll definitely be heading back for another round soon.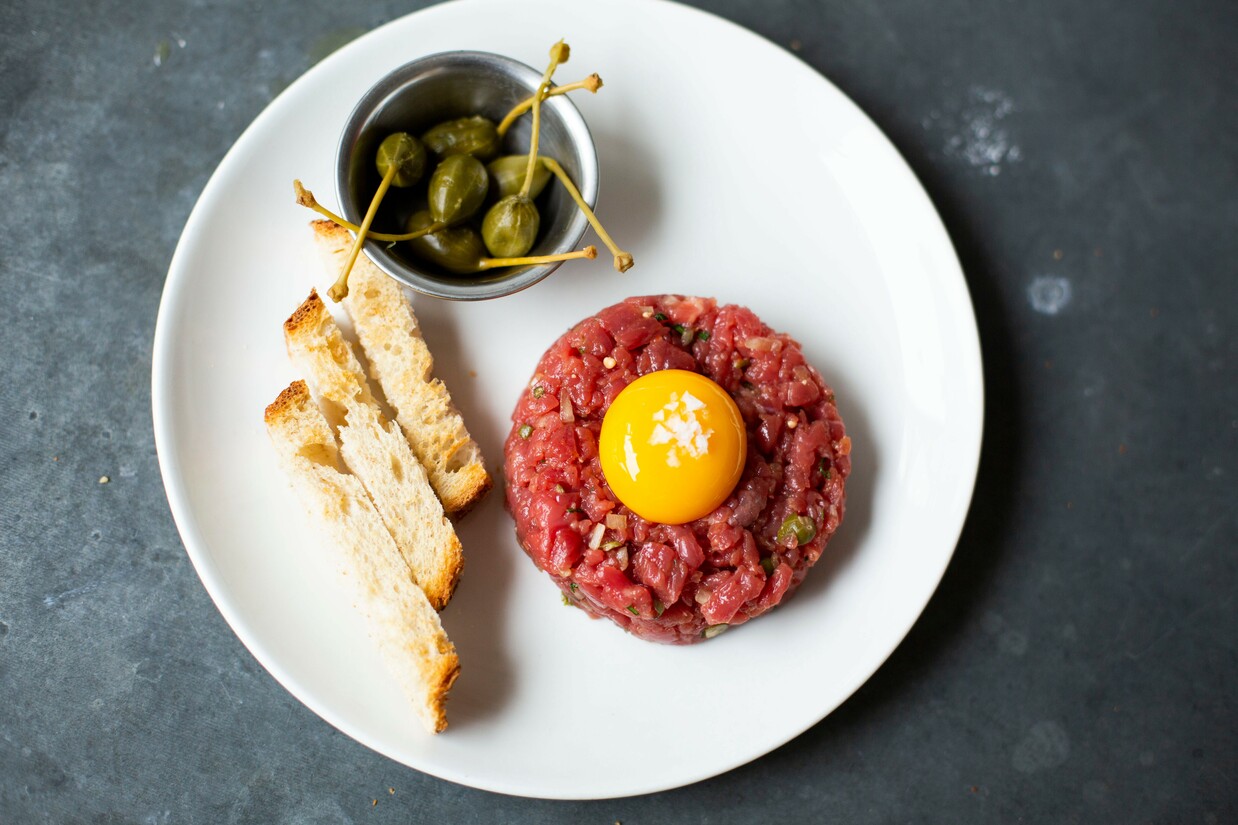 Oeuf opened in May 2019 and is the perfect combination of unpretentious style and substance.  At the end of the meal our bill came with two little fried egg sweets – this is a place that has nailed the vibe as well as the food and doesn't take itself too seriously.
So if you're in the De Pijp, give the predictable hotspots a miss. Smile at the pouting Instagrammers as you pass them in the long queue for Bakers and Roasters or The Avocado Show, knowing that you're headed to somewhere infinitely more authentic and lovely which also happens to be perfectly picturesque.  Just don't tip them off and let's keep Oeuf our little secret for as long as possible.